Commercial Medical Escort
Commercial Medical Escort is a very cost effective alternative to private air ambulance and is available worldwide. Patients can qualify for the commercial medical escort service if the patient can sit in a seat for some period of time and are medically stable.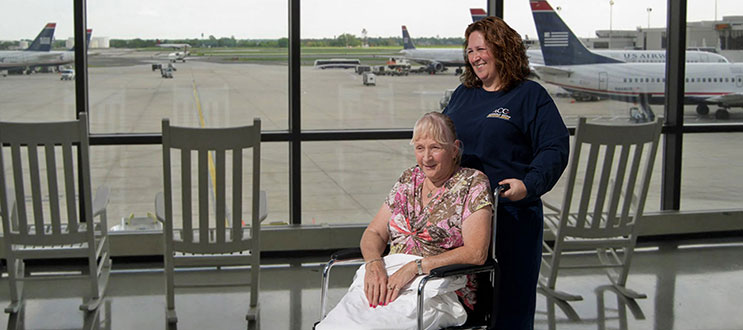 We offer Commercial Medical Escort Services that can be a very cost effective method of medical transportation as compared with private air ambulance. Patients can qualify for the Commercial Medical Escort service if the patient can sit in a seat for some period of time and are medically stable. Air Critical Care's medical directors, Dr. Richardson or Dr. B Crandall will communicate with the patient's doctors for discharging and receiving information to determine that this mode of transportation is appropriate for the patient's condition. The Commercial Medical Escort service is used even for persons not in a hospital or nursing home but, our customers are those that just need a little extra help with travel and boarding, transfers between airlines, to and from the airports and even security. We provide a truly "First Class" experience for all of our customers. Air Critical Cares staff will arrange every detail of the transportation from Bed to Bed and every detail in between, we arrange our medical staff, oxygen, aircraft preboarding, medical holding areas in major airports for patient to relax and all ground transportation. This Commercial Medical Escort Service is available worldwide for all International and domestic air carriers. An airline approved medical staff consisting of a Critical Care Registered Nurse (CCRN) or Critical Care Paramedic (CCEMT-P) will fly with the patient in First or Business Class on a commercial airliner. Family members or other companions are able to travel with the patient along with the medical escort provided by Air Critical Care. For additional information, please call our Medical Escort Professional Staff at 800-550-0674.
What's a Commercial Medical Escort?
If a family member or a patient needs to return home and has a medical condition, it can be very complicated and stressful. We at Air Critical Care want to take that burden off your hands and make it a good experience. The Medical Escort is not just for the medical patient but we provide this service to many travelers that just need extra help. In some cases an elderly couple traveling will elect for this service to have an extra set of hand to help make sure that their travels are safe and as convenient as possible. With years of experience, our team at Air Critical Care can get it all done for you with just the one initial phone call. With this unfortunate turn of events or emergency, you have been through enough stress; it's time to let us take that off your hands! Work out all the logistics. We complete a medical evaluation of the patient by speaking with you and the medical staff currently providing the care for you or your loved one. Once this is done, we will also determine which airline would provide the best for you to get you and the patient home as soon as possible and as safely as possible. Once you call us we can determine what type of care needed and then we will send a medical escort.
The Medical Escort Staff
Registered Nurse or Paramedic with Critical Care Certifications and many years of experience make up our Medical Escort staff. These are the same highly experienced team members that staff Air Critical Cares fleet of Air Ambulances. Medical Escorts have many years of experience and emergency certifications like Advanced Cardiac Life Support (ACLS) and Flight Medical Transport Certifications. If needed, we can continue intravenous fluids, give intravenous antibiotics, give required pain medications, as well as all the other medications needed, provide the necessary personal hygiene care for that patient, and lastly provide compassion to you and your loved one, when you have already been through a traumatic time.
The Medical Transport Coordination
We will arrange the Commercial Medical Transport to include the following:
Transportation to the airport and from airport
Notifications to customs on International flight
Assistance with airport security clearances
Certificate from Flight doctor for patients "Fit to Fly"
Bed to Bed Medical Escort Service
Our medical escort staff will guide you from bed to bed through the transport. Complete service from bedside to bedside you will be escorted from bedside to airport and check-in through the security, and customs on International flights, providing them with the necessary documentation, and assist in the safe boarding of the aircraft, then to awaiting transportation to your final destination bedside. We recommend that flights be arranged and ticketed with aircraft that have First Class or Business Class, so that our medical escort will have room to work and for the maximum comfort and privacy for you or your loved one. There are lots of logistics involved, and that is where our years of experience in air medical services, commercial medical escort service, emergency transport, and long distance ground medical transportation, allows us to be the leader in medical transportation services all services are with our "personal touch" and if you take a minute to review what our customers write about us you we see that we are the true leader in air medical services. The best part of our services is the price. We encourage you to evaluate other services but Air Critical Cares, Commercial Medical Transportation Services are by far the most complete and detailed in the industry and that's why Air Critical Care is the leader in Commercial Medical Transportation Services from International Stretcher Service to Commercial Medical Escorts.