International Commercial Stretcher
International Commercial Stretcher is available on international flights. This service is a cost effective way to transport patients confined to a stretcher. A Medical Escort will attend to the patients every need during the transport.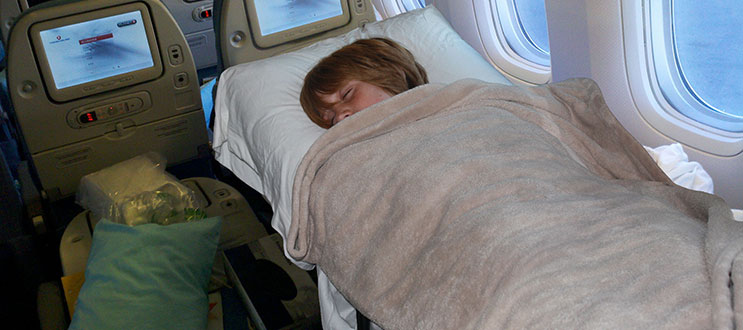 The role of international commercial medical stretcher services is to convert a commercial airliner into an advanced air ambulance. This provides a cost effective alternative to private air ambulance services for those that are traveling to international destinations and require greater accommodations for passengers. We remove the seats and install a medical stretcher in the commercial aircraft, designed for patients. There are some guidelines and restrictions to consider, and therefore, each case is carefully and individually assessed. Eligibility is determined by Dr. B Crandall, our Medical Director, a professional operates in association with the medical department of the commercial airline to be utilized for the flight. Due to the approval process of commercial airlines, we typically require several days' notice in order to make the necessary arrangements. Each flight staff consists of Air Critical Care's professional medical team, trained as critical care specialists and technically trained in advanced air medical transports. Aboard the commercial stretcher service on a dedicated air ambulance, our patients have all of the emergency equipment that is needed, including but not limited to: a defibrillator, a cardiac monitor, IV pumps, oxygen and multi-parameter monitoring, portable transport ventilators, and emergency medication. We essentially offer a mobile medical air transport and ICU in the air.
Air Medical Transportation Services : Whats included?
International commercial air medical transport services consist of these necessities, and are highlighted with Air Critical Care's "Personal Touch":
Medical consultations are performed with all physicians involved and medical documentation. Our critical care air medical transport services crew will care for the patient from "bedside-to-bedside."
All ticketing for our medical staff and patient is located in a designated section of the aircraft. We obtain the airline medical clearances, confirm that the commercial medical stretcher is installed, and get approval from all commercial airlines during the medical transport and transfers between aircraft. We use ground ambulances to transfer the patient, his or her family, and the medical staff to and from the airport and for loading on the aircraft.
Transport coordinators will monitor every step of the transfer from "bedside to bedside," confirming every detail. They also ensure that the patient's friends and family are updated at all times about the flight's progress and the patient's condition.
After a successful transfer, we will file a face-to-face medical report with the receiving medical staff to insure that the patient's continuity of care is maintained. We look for a quality outcome from the transfer services.
We work hard to meet all of the needs of our worldwide medical air transport patients by refusing to compromise on a high standard of service and integrity. By providing these international commercial air medical transport services, Air Critical Care gives patients a cost effective opportunity to utilize commercial airlines for needed medical transportation.