Air Ambulance Services Guide
We've prepared the following service guide to better assist you with the planning of a medflight for your loved one or patient. Please review it carefully; it will save you time and make the medical transport stress-free.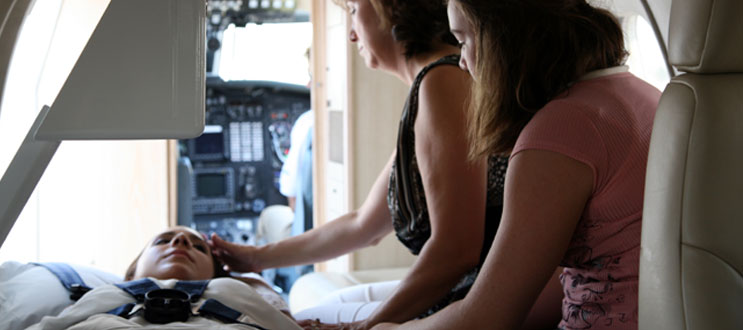 Patient Information
Please Provide the Following
Name and Date of Birth.
Facility where patient is currently and where patient is to be transported to.
Physical Condition: Weight, height and ability to move or sit.
Medical Condition: Can the patient sit, or ambulate, special diets.
Does patient require special equipment, i.e., oxygen, ventilator, IV, etc.
Reason for transfer.
Passengers accompanying patient: Need names and estimated weights.
Please note that the patient's condition and aircraft selected may limit the number of passengers that can travel with the patient. The flight coordinator will be happy to assist with anything you may require – please, just ask! After the review of information, the flight coordinator will provide a proposal of air medical services.
Medical Transport Team Review
Service Recommendations
The medical team will make recommendations for services to be offered, e.g., medical escort (patient must be able to sit), international commercial stretcher service, or air ambulance transport services and the type of aircraft that will be utilized. All of our services are bedside-to-bedside, offering the highest level of continuity of care. Other information to consider:
Financial considerations, does the patient have health insurance?
Contact information for financial arrangements
The above information will assist us in providing you with the available options and quotes for the level of services that are best suited to the patient's needs.
Upon acceptance of the proposed air medical services, the flight coordinator will e-mail or fax an agreement. This will detail the services to be offered, along with additional forms, i.e., Air Critical Care's HIPAA privacy policy, U.S. Medicare Advanced Beneficiary Notice as required (this form is used for Medicare patients to advise the patient if we feel that Medicare will cover the cost of the flight). Air Critical Care's medical team will obtain a detailed medical report from the patient's current medical care givers and confirm the receiving facility information to include receiving doctor, receiving facility address and placement. The flight coordinator will select an aircraft that is strategically located and notify the medical team, who will obtain a detailed report from the discharging hospital. All flights are under the supervision of the Medical Director for Air Critical Care, Dr. Blane Crandall.
Medical Health Insurance
Patients with Health Insurance
We will bill most insurance companies directly. Please provide the following documentation so Air Critical Care may be prepared to assist with billing of insurance providers.
Copy of the recent H&P (Health and Physical) from the hospital or discharging facility
Copy of Health Insurance Cards, both front and back
Copy of the hospital or facility "Face Sheet"
Before The Medical Flight
Luggage
Each passenger is allowed one carry-on size (21" roller bag maximum) suit case. Any baggage in excess of this must be communicated to the flight coordinator in advance to ensure that the selected aircraft will have room to accommodate additional luggage. Patient care is our primary responsibility.
Passengers
All passengers over the age of 18 flying with their patient should have government issued photo identification such as a passport, state driver's license or state identification card.
Health Conditions
Please provide us with any medical conditions that passengers may have, so we can assist with any special needs that they may have before or during the flight.
International Flights
Please be prepared to provide for each passenger, legible copies of a current passport, visas and travel documents. An electronic copy such as e-mail is best. If you don't have a copy of the passport, please be prepared to provide the following: Full Legal Name, Date of Birth, Place of Birth, Passport Number, Passport Expiration Date, Home Address and how long each person has been out of the United States. Your medical team will arrive bedside at the facility or hospital to begin the journey.
During The Medical Flight
In Flight Services
All flights will offer light snacks, soda and bottled water. Please inform us of anything that would make this Medflight more comfortable.
Passenger Medications
Please insure that any medications the passengers may require for the trip are packed in a purse or small carry-on. In some cases you won't have access to luggage during flight.
Medical Conditions
Please advise your medical team of any medical condition that the passengers may have. The air medical team is there for the health and safety of all. In some cases, due to the aircraft cabin pressure, some passengers with compromised health may require oxygen during the flight. Please inform your air medical team of any health concerns. We sincerely hope that this Air Ambulance Services Guide assists you in the preparation of the flight to health for your loved one or patient.