Air Ambulance Worldwide
Air ambulance is the fastest method of transporting patients from one place to another in comfort worldwide.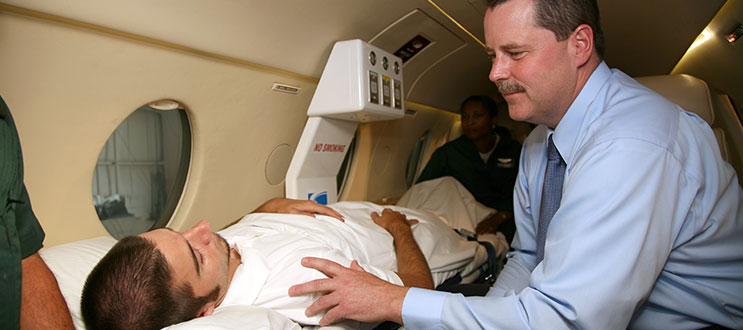 The Best CARE in the AIR
Air Critical Care provides complete bedside-to-bedside service to ensure that the patient's continuity of care is maintained. Your flight coordinator will arrange every detail of the air ambulance transport, coordinating all patient and family needs, all ground transportation, international clearances and customs. We'll assist with accepting facilities if needed. Your personal flight coordinator will keep family and loved ones not traveling with the patient informed of the flight's progress.
Most Experienced Medevac Staff
Air Critical Care is staffed with the most experienced aero medical team members in the air medical transport industry. The medical teams consist of Emergency Physicians, Critical Care Registered Nurses (CCRN), Paramedics (CCEMT-P) and Registered Respiratory Therapists (RRT) that are chosen based on the patient's condition. Staff exceed all medical standards and have specialized training in Aero Medical Physiology and Advanced Cardiac Life Support (ACLS)
Committed to Excellence
International & Domestic
Bedside-to-Bedside Care
24 hr. On-Demand Service
Rapid Response
Competitive Pricing
No Hidden Costs
Licensed Advanced Life Support
Specialists in Critical Care