Testimonials
There is great satisfaction in knowing you've done your job well and served your clients' interests. It gives us particular satisfaction when our clients take the time to acknowledge their satisfaction by providing Air Critical Care with their testimonials.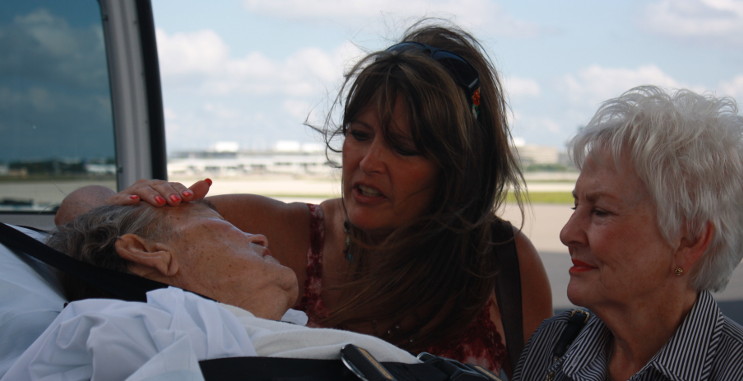 The pay-off from all the hard work
Karen Friedman
Our medical escort Peggy was/is fabulous. So kind, personable, great with my mom and very competent. Thank you Tia and Peggy for the excellent service provided by ACC Medlink!!
Carlyn C. – Memory Care Advocate
The ACC Medtrans team were invaluable in helping one of my residents transition from Florida to my community in Pennsylvania. They are professional, communicative, and above all, caring. The resident ACC Medtrans transported to my community suffers from dementia and had very high level care needs due to diabetes and issues with her blood pressure. By no fault of their own, the flight my resident booked was cancelled after three hours sitting on the plane.
Tia, the representative I was working with, along with her team, went above and beyond to make sure she was not only provided the medical attention she needed, but the emotional support her and her panicked daughter needed as well. The team worked relentlessly advocating for my resident to get her on a different flight and into our care as soon as possible. I was so grateful to have them by my side understanding that my resident needed specialized care.
As an industry professional, I was astounded by the heart this team had shown in providing outstanding service, not only to the family I was helping to transition into my community, but to me as a Memory Care Advocate who knows how difficult it is to transport someone suffering from memory impairment. With the ACC Medtrans team by your side, you are considered a part of their family from beginning to end and even thereafter in their follow up.
Tracy Seattle
Air Critical Care has EXCELLENT quality customer service from start to finish. Thank you Tia for taking great care of my family.
Elizabeth Childs – Care Transitions Manager
Last month, Tia helped me arrange air transportation for my patient traveling from Fort Worth, Texas to Crown Point, IN. Patient was in a coma after a massive ruptured aneurysm causing a hemorrhagic stroke. Patient did not have traditional insurance and Tia worked with the health share plan to arrange payment. She spoke with the receiving LTAC in IN and confirmed flight arrival. The day before, Tia called me and asked if flight time could be moved up as the pilot anticipated bad weather moving through during flight. I happily agreed to move up time and coordinate discharge with physician and nursing staff. Tia kept me informed every step of the way with updates including a text message at 06:24 in the morning on Tuesday March 12th confirming patient and spouse were in the air headed to Crown Point, IN. I was reassured that the discharge was successful before I even came into work that day.
Tia was professional and organized. She made my job as a case manager easier. But most importantly, she helped me transfer my patient safely. For that, I extremely grateful.
Thank you, Tia, for your outstanding customer service.
Jennifer Nolan
Mike, I wanted to thank you very much for arranging medical transport of my critically ill dad earlier this week. You acted promptly and were terrific at marshalling the resources and putting the right medical transport in place for us that we needed. We appreciate deeply your assistance.
A.Perkowski
Thanks again for transporting my mother to her home in NY on such a short notice. It was a pleasant flight, thanks to the pilot and a wonderful, attentive and friendly nurse, Kate Taylor.
Emily
I just wanted to say thank you to you and your crew for getting Ryan and myself down to Florida so quickly and safely. I was petrified about moving him, but knew we needed to.. Kate, Melissa, and John were amazing. Kate and Melissa were incredibly supportive, and made us both so much more comfortable. I really appreciate the service that you provide, and wish you and your company the best in 2012.
Cyndy Celmer Tomasetti
I really thank you for making it possible to move my Mother-in-law from Fort Lauderdale to Jacksonville. Chris was amazing. He really did the impossible- he calmed me down. I was a nervous wreck, prior to your crew's arrival. When I saw how capable they were, I think I relaxed for the first time in weeks. In addition to keeping my Mother-in-law comfortable and secure, they were very attentive to her health concerns, adjusting her oxygen and monitoring her vitals.
I would highly recommend your crew and services to anyone in need of transport for cargo of the most precious kind- human life. Everything from the cleanliness of the vehicle to the professional dress and manner of the crew was greatly appreciated. I don't think there is any scenario your crew can't handle.Our delay was due purely to FHP's inability to clear the highway, and the laws of physics.Oh, and they made me laugh, too. Capable, compassionate and entertaining.
Patty Clark
We contracted Air Critical Care to transport our ailing father from Florida to Michigan. The flight and transfers were safe, comfortable and trouble-free, thanks to the meticulous, caring attention of your crew. With all the issues my family is now facing, Air Critical Care ensured his transport was not one of them. I highly recommend these air ambulance specialists.
The Walker Family
We just want to thank you for transporting my dad. He was in a hospital in Buffalo, NY that could not take care of his heart problem. He needed to get to a hospital equipped to deal with his situation. My Brother and I and our families were unsure of what our next step should be. Thanks to Air Critical Cares bedside to bedside service we were able to get my dad to a hospital and proceed with a surgery he desperately needed. Air Critical Cares staff was compassionate and professional and safely got us to the hospital in Miami, FL where my dad underwent surgery and is now in the recovery process. I never knew that services such as Air Critical Care were available, but, I do now and so do many others as we have shared our story. Thank you for everything!
Rick Frost
You and your team could not have done a better job at getting my mom back to Texas….thank you….it was a very traumatic family event, but your staff was so professional and helped immensely. And your price was much lower than your competitors.